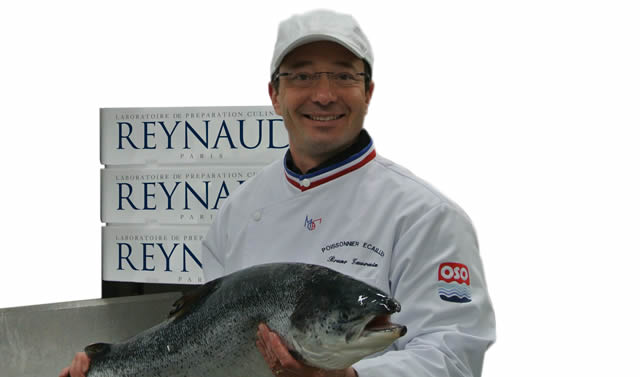 Reynaud® Culinary Preparation Laboratory
24/7 customisation
Developed by Bruno Gauvain, winner of the Meilleur Ouvrier de France award (Best Craftsman of France), the Reynaud® Culinary Preparation Laboratory has been in operation since 2012 in Rungis.
It provides 24/7 filleting, "ready-to-cook" preparation and packaging solutions. This around-the-clock work schedule is divided among two teams, offering unprecedented service and flexibility.
The manual filleting and traditional know-how applied to each order reflect R&O's expertise.
The use of high-end technology, such as automatic traying, demonstrates its sense of innovation.
This service is also available in some of our regional locations in France.
Shellfish Preparation and Cooking Workshop


Preserved quality

OSO® Organic Shrimp from Madagascar are prepared in Nantes where they are cooked and packaged.
Special care and attention are given to cooking them, in order to ensure their taste and quality are fully preserved.
OSO® Organic Shrimp are cooked and delivered the same day to our clients in order to guarantee maximum freshness and incomparable gastronomic pleasure.
Gastronomic Solutions


Sharing excellence

With over 500 species of fish and shellfish, R&O offers a wide range of seafood products – mostly "Fresh" – to meet all tastes and eating occasions.
R&O Gastronomic Solutions are developed in our preparation and packaging workshops, which have daily production capacities designed to meet the requirements of the markets for ultra-fresh products. They are offered in 100 g to 10 kg packages for fresh products and 100 g to 6 kg packages for OSO® frozen organic shrimp.